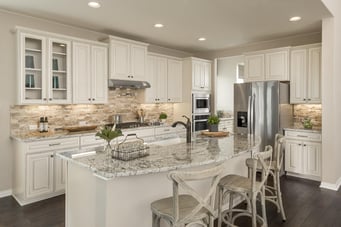 Santa Rita Ranch Named Top Seller: Rank Comes as Williamson County Achieves a New Peak
December 4, 2019
Santa Rita Ranch is the top-selling community in western Williamson County, based on third-quarter results from an observational survey by Metrostudy. The community posted 328 new home starts and 279 new home closings in the trailing twelve months ending September 30, 2019. Those figures placed Santa Rita Ranch in the top five communities in Austin overall. Santa Rita Ranch is the top seller west of I-35 and the only Liberty Hill community to make the top ten.
Ed Horne, developer of Santa Rita Ranch, said, "The starts figures align with what we're seeing in terms of reported contract sales. Given strong builder performance, we're on a pace of nearly more than one new home sale every day." Santa Rita Ranch builders have 318 net home sales (401 gross) since the beginning of the year.
The achievement comes at a time when Williamson County is hitting its peak performance. Williamson County was the top-selling County in the Austin MSA, with a record-breaking 7,467 new home starts in the trailing twelve months ending September 30. Travis County reported 7,178, and Hays Count trailed at 2,617 new home starts. For the quarter ended September 30, Williamson County also hit a new record for new home starts, with 2,490. The previous record was 1,965 just one year ago.
Horne said, "Living in Williamson County is becoming even more attractive as we're seeing employment centers develop north of Austin, including millions of square feet of office construction coming online at The Domain and the future Apple campus. When home shoppers are considering where to live, they are looking not only for good commuting routes but a community that provides a wide range of amenities and good schools."
He added, "Shoppers are flocking to Santa Rita Ranch partly because the Liberty Hill Independent School District (ISD) recently received an "A" grade from the Texas Education Association. We have a $38 million Liberty Hill ISD elementary school under construction in Santa Rita Ranch. We also have a private school option, Divine Savior Academy."
Residents of Santa Rita Ranch enjoy $15 million in on-site amenities, including pools, basketball courts, playgrounds, a splash zone, fitness park, indoor fitness center, hiking trails and more. Bringing residents together is a lifestyle director who plans events for all ages.
A dozen builders in Santa Rita Ranch offer 15 product lines in the community priced from the $200,000s to the $700,000s. Many of those builders also were ranked highly in the Metrostudy report.