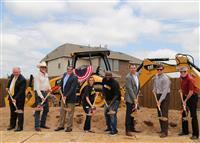 Wilshire Homes Breaks Ground on Mortgage-Free Home for Married Army Vets
May 18, 2016
AUSTIN, TX (May 18, 2016) – Wilshire Homes, in partnership with Operation Finally Home, broke ground on a new home for two military veterans in a ceremony held May 17 in Round Rock.
This is the first time the builder has teamed up with the non-profit organization, which is dedicated to providing custom-built, mortgage-free homes for disabled or ill veterans and their families. Wilshire's home will be located at 2705 Diego Drive within Paloma Lake, a 750-acre master-planned community in Round Rock.
"We were honored to be approached by Operation Finally Home in this endeavor," said Gary Tesch, president of McGuyer Homebuilders, Inc. (MHI), parent company of Wilshire Homes. "American servicemen and women have sacrificed so much in the defense of our nation's freedoms and values. Building a home that will meet this family's needs is the least we can do."
Nick and Shelby Nelms who met while in the Army and both served in Afghanistan, were named the recipients of the mortgage-free home on the Bob Cole KOKE FM morning radio program shortly before the groundbreaking ceremony May 17. The couple was on a mission in 2011 when Shelby's truck was hit by an improvised explosive device (IED). An Army medic, Nick ran to the truck and pulled Shelby to safety. The pair married later that year upon returning from Afghanistan. They now have two children and still suffer from combat-related ailments.
Wilshire Homes builds in Austin and San Antonio, garnering a number of state and national product design awards along the way. In addition to Paloma Lake, the builder is active in 14 Austin-area communities. Details about Wilshire Homes are available at www.wilshire-homes.com.
Operation Finally Home was established in 2005, partnering with builder associations, builders, developers, corporate sponsors, individual contributors, and volunteers to help military veterans and their families transition to the home front. For more information about Operation Finally Home, visit www.operationfinallyhome.org.